I know this may be a tiny bit late since this post is coming out a week into the Spring season, but I thought it might be a good idea to make some more context for my next post in which I am planning on releasing for my Initial thoughts on the Spring 2017 Anime Season. With that said, the Spring season is here now, so let's talk about the shows that I am most anticipating.
Now that I have stated all of that, let's get on with the list.
Note: This list will be updated as more information is released on each series.
==================================================================
Anime Title: Alice & Zouroko
Production Studio: J.C. Staff
Episode Count: 12 eps.
Source: Manga
Genres: Adventure, Mystery, Slice of Life, Seinen
Description: "The story centers on a little girl called Sana, who is one of the children that holds the power of "Alice's Dream," an ability that enables her to materialize anything she imagines. After escaping a lab where she was a test subject, Sana ends up in a normal world where she encounters an old man named Zouroku, but will he help her?"
---
Anime Title: As The Moon, So Beautiful
Production Studio: feel.
Episode Count: N/A
Source: Original
Genres: Romance, School
Description: "Kotarou Azumi and Akane Mizuno became third year students at junior high school and are classmates for the first time. These two, along with fellow classmates, Chinatsu Nishio and Takumi Hira, relate to their peers through mutual understandings and feelings. As their final year at junior high school progresses, the group overcome their challenges to mature and become aware of changes in themselves."
---
Anime Title: Atom: The Beginning
Production Studio: Production I.G, OLM, Signal. MD
Episode Count: 12 eps.
Source: Manga
Genres: Action, Mecha, Sci-Fi, Seinen
Description: "Japan in the near future suffers an unexplained major disaster. Five years later, reconstruction is well underway. Two young researchers at a university are pinning all their hopes on robot development. Now their new interpretation of the eternal hero Astro Boy up until his birth is just about to start!"
---
Anime Title: Attack on Titan Season 2
Production Studio: WIT Studios, Production I.G
Episode Count: 12 eps.
Source: Manga
Genres: Action, Drama, Fantasy, Super Power, Shounen
Description: "The second season of Attack on Titan…
Centuries ago, mankind was slaughtered to near extinction by monstrous humanoid creatures called titans, forcing humans to hide in fear behind enormous concentric walls. What makes these giants truly terrifying is that their taste for human flesh is not born out of hunger but what appears to be out of pleasure. To ensure their survival, the remnants of humanity began living within defensive barriers, resulting in one hundred years without a single titan encounter. However, that fragile calm is soon shattered when a colossal titan manages to breach the supposedly impregnable outer wall, reigniting the fight for survival against the man-eating abominations."
---
Anime Title: Clockwork Planet
Production Studio: Xebec
Episode Count: N/A
Source: Light Novel
Genres: Fantasy, Sci-Fi
Description: ""The Clockwork Planet"
One day, a black box suddenly crashed into the house of the high school dropout Naoto Miura. Inside it was a female automaton. The endless cycle of failure and success.
The world that does change and the mankind that does not change. At a time where reality and fantasy are screaming, the encounters of these two make the gears of fate move!"
---
Anime Title: Grimoire of Zero
Production Studio: White Fox
Episode Count: 12 eps.
Source: Light Novel
Genres: Action, Fantasy
Description: "Year 526 of the Liturgical Calendar. The world knew that witches existed, and that they practiced the notorious art of sorcery. Nevertheless, the world did not know anything about the study of magic.
Our story follows a half-man, half-beast mercenary; humans mockingly call his kind the "fallen beasts." He always dreamt of becoming a human, but one day, he met a witch who would change his life forever.
"Do you desire a human form? Then be my escort, mercenary!"
The witch introduced herself as "Zero," and explained that she was searching for a one-of-a-kind magical tome that bandits had stolen from her lair. Entitled "The Book of Zero," the grimoire supposedly contained valuable magical knowledge that could be used to effortlessly bring the world to its knees.
Thus, in order to realize his dream of becoming a human, the mercenary must accompany Zero on her journey—despite her being one of the witches he so loathed.
This is the story of a haughty sorceress and a kindhearted beast. "
---
Anime Title: Kabuki Club!
Production Studio: Studio Deen
Episode Count: 12 eps.
Source: Light Novel
Genres: School
Description: "The series revolves around kabuki, a classic style of Japanese dance-drama that combines music, drama, and dance. Kurogo Kurusu, a 15-year-old high school student has a passion for kabuki and hopes to establish a kabuki club at school. Things are not easy as they seem when he realizes that he needs to find students to join him."
---
Anime Title: My Hero Academia Season 2
Production Studio: Bones
Episode Count: 25 eps.
Source: Manga
Genres: Action, Comedy, School, Super Power, Shounen
Description: "The Second Season of My Hero Academia…
One day, a four-year-old boy came to a sudden realization: the world is not fair. Eighty percent of the world's population wield special abilities, known as "quirks," which have given many the power to make their childhood dreams of becoming a superhero a reality. Unfortunately, Izuku Midoriya was one of the few born without a quirk, suffering from discrimination because of it. Yet, he refuses to give up on his dream of becoming a hero; determined to do the impossible, Izuku sets his sights on the elite hero training academy, UA High.
However, everything changes after a chance meeting with the number one hero and Izuku's idol, All Might. Discovering that his dream is not a dead end, the powerless boy undergoes special training, working harder than ever before. Eventually, this leads to him inheriting All Might's power, and with his newfound abilities, gets into his school of choice, beginning his grueling journey to become the successor of the best hero on the planet."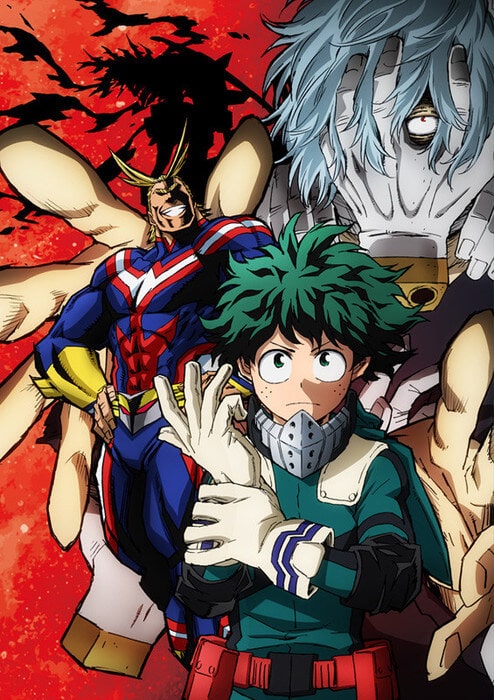 ---
Anime Title: Rage of Bahamut: Virgin Soul
Production Studio: MAPPA
Episode Count: 24 eps.
Source: Mobile Game
Genres: Action, Adventure, Demons, Fantasy, Magic, Supernatural
Description: "The Second Season of Rage of Bahamut: Genesis…
Thousands of years ago, the ancient dragon Bahamut wrought havoc upon the land of Mistarcia, a world where both gods and demons live amongst mankind. Working together to prevent the world's destruction, the rival deities barely managed to seal Bahamut, agreeing to split the key between them so that the dragon would remain eternally imprisoned.
With the world safe from the destruction of Bahamut, it is business as usual for bounty hunters like Favaro Leone. Living a laid-back, self-serving lifestyle, the amoral Favaro goes about his work while on the run from fellow bounty hunter Kaisar Lidfard, a righteous man who swears vengeance upon Favaro. However, Favaro's carefree life is thrown into chaos when he meets Amira, a mysterious woman who holds half of the key to the world's fragile peace."
---
Anime Title: RE:Creators
Production Studio: TROYCA
Episode Count: 22 eps.
Source: Original
Genres: Action
Description: "Humans have created many stories. Joy, sadness, anger, deep emotion. Stories shake our emotions, and fascinate us. However, these are only the thoughts of bystanders. But what if the characters in the story have "intentions"? To them, are we god-like existences for bringing their story into the world? Our world is changed. Mete out punishment upon the realm of the gods. In Re:CREATORS, everyone becomes a Creator."
---
Anime Title: Sakura Quest
Production Studio: P.A. Works
Episode Count: N/A
Source: Original
Genres: Comedy, Slice of Life
Description: "In the wake of a nationwide movement during the Bubble economy period, a small town in the countryside has revived its "mini-nation" tourism program; hiring five girls as travel ambassadors. The series will follow a year's time of the five girls as they work in the tourism agency of a small failing town in an effort to reinvigorate it."
---
Anime Title: Sakurada Reset
Production Studio: David Production
Episode Count: 24 eps.
Source: Light Novel
Genres: Mystery, School, Supernatural, Super Power
Description: "Nearly half the population of Sakurada, a small town near the Pacific Ocean, has some sort of unique power. These powers range from being able to enter the mind of a cat, to resetting the world back to a certain point in time in the past. There is a group known as the "Kanrikyoku" that controls and monitors the use of these powers. Asai Kei and Haruki Misora work for their school's club called "Houshi" club, which execute any missions received from the Kanrikyoku. Misora has the ability to reset the world back 3 days. This means that all events and any memory of the past 3 days that "could have" happened, never happened. Kei has the ability to "remember" the past. Even after Misora uses her powers to reset the world back 3 days, Kei will retain those 3 days in his memory. Combining their powers, these two solve missions issued by the Kanrikyoku."
---
Anime Title: The Laughing Salesman NEW
Production Studio: Shin-Ei Animation
Episode Count: N/A
Source: Manga
Genres: Comedy, Drama, Seinen
Description: "Each episode follows Fukuzou Moguro, a traveling salesman, and his current customer. Moguro deals in things that give his customers their heart's desire, and once his deals are made and their unhealthy desires are satisfied, Moguro's customers are often left with terrible repercussions, especially if they break the rules of his deals…"
---
Anime Title: The Very Lovely Tyrant of Love
Production Studio: EMT2
Episode Count: N/A
Source: Manga
Genres: Comedy, Romance, School, Supernatural
Description: "A Kiss Note is a powerful notebook that makes anyone who has their name written together will instantly fall in love if they kiss each other regardless of any circumstances. This magical and very familiar item belongs to an angel named Guri whose job as cupid is to create couples. However, she accidentally writes down Aino Seiji, a regular high school student, and unless he kisses someone, Guri will die. She convinces Seiji to go kiss his crush, Hiyama Akane, the school's popular girl who turns out has even stronger feelings for him, bordering on obsessive and psychotic. Eventually Akane and Seiji come together but not before Guri decides that she likes Seiji as well. What seems awesome to most guys becomes hell for Seiji who just wants a normal relationship with girls."
---
Anime Title: What do you do at the end of the world? Are you busy? Will you save us?
Production Studio: Satelight, C2C
Episode Count: N/A
Source: Light Novel
Genres: Drama, Fantasy, Romance, Sci-Fi
Description: "Five hundred years have passed since the humans went extinct at the hands of the fearsome and mysterious 'Beasts'. The surviving races now make their homes up on floating islands in the sky, out of reach of all but the most mobile of Beasts. Only a small group of young girls, the Leprechauns, can wield the ancient weapons needed to fend off invasions from these creatures. Into the girls' unstable and fleeting lives, where a call to certain death could come at any moment, enters an unlikely character: a young man who lost everything in his final battle five hundred years ago, the last living human awakened from a long, icy slumber. Unable to fight any longer, Willem becomes the father that the girls never had, caring for and nurturing them even as he struggles to come to terms with his new life, in which he feels the pain of helplessly waiting for his loved ones to return home from battle that his 'Daughter' once felt for him so long ago. Together, Willem and the girls gradually come to understand what family means and what is truly worth protecting."
---